By car –If you have a satellite navigation system, type in our post code – TN19 7JR. Otherwise, take the A265 to Burwash Common. At the Common, take the turning signposted to Stonegate, BR Station, and St Phillips Church. After 300 yards look out for a signpost on the left, to the Masonic Hall. Follow this sign up an unmade track to an automatic, 5-bar gate. Beyond this you will see a second gate. This 2nd gate leads to the Farmhouse while the track to the left goes down to the cottage. Please pass through the 2nd gate and call at the Farmhouse on your arrival. If in doubt, feel free to call us on #44 (o)1435 883201 or #44 (0)7800 682 422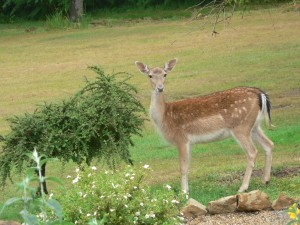 By train – If you are travelling by train, disembark at STONEGATE (on the LONDON to HASTINGS line). There are NO taxis at the station and you may wish to consider calling your host on #44 (o)1435 883201 or #44 (0)7800 682 422 to arrange for your collection.
By helicopter – don't even think about it! I want to continue on good terms with my neighbours!