Eating Locally to Blackdown Cottage
There is a very wide choice of places to eat in the area and we have tried to group them according to price and 'type', beginning with the pubs that serve food and ending with what we consider to be fine dining restaurants. Do let us know if you find your own hidden gem and we will happily add it to the list.
Most country pubs and restaurants serve food from 12 noon –2.30 pm & 6.30 pm – 9 pm.
Pub Grub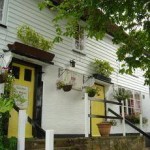 Rose & Crown, Fletching Street, Mayfield – 01435 873849
A traditional locals pub with a lovely buzzing atmosphere – particularly at weekends and early evenings. Serves food all day 11 am to 9 pm ish of very reasonable quality and low prices. Reputation for an excellent Sunday roast. Harveys Bitter and other guest ales. Sunny patio area outside and log fires inside in winter. Plenty of tables and you can eat inside or out, at the bar or in the restaurant area. Order at the bar. Dogs welcomed. 15 minutes drive from the cottage and you can walk from the pub uphill into the medieval village of Mayfield.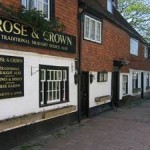 Rose & Crown, Ham Lane, Burwash – Tel: 01435 882600
A 5-minute drive. Tucked away down a small lane, this very nice 'locals' pub has a good atmosphere and varied menu. Small courtyard garden for summer & log fire in winter. Good carvery on a Sunday during the winter months – wise to book and wide Sunday menu in the summer. Has restaurant but you can eat in the bar if you prefer. Three course meal from £10 – £20 per head plus drinks. Park in High Street. Often has live music on Friday nights and late afternoon on Sundays.
Best Beech Inn, Best Beech Hill, Wadhurst – 01892 783 896
A 10-minute drive through the lanes. Bright and clean feel, varied menu in a relaxed atmosphere. Shepherd's Neame Pub. Small terrace in summer. Three log burners in winter. Isolated position but on some good walking routes. Order at bar, waitress service thereafter. Three course meal from £15-£30 per head plus drinks – food and service quality can be variable. Car park opposite. Dog friendly in bar.
Middle House, High Street, Mayfield – 01435 872 146
About a 15-minute drive through the lanes. Popular large Inn dating from Elizabethan times. Very busy at weekends. Worth booking a table in the restaurant if you prefer a more formal dining experience. You can also eat in the main bar but, when busy, it can feel very crowded. Excellent food and varied menu. Roaring fires in winter and attractive large garden for summer. Three course meal from £20-£45 per head plus drinks. Car park behind pub and large car park in village too. Pretty Medieval village with some nice shops including a couple of tearooms.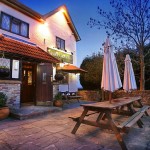 The Mark Inn at Mark Cross – Telephone 01892 852423
About a 20-minute drive from the cottage via Wadhurst High Street, this popular and very large restaurant has an extensive and varied menu. Select a table and order at the bar, waitress service thereafter. Serves food all day from 12 noon 9.30 pm on Mondays to Saturdays and from 12 noon to 9.00 pm on Sundays. Good wine list. Consistently high standards, nice atmosphere, attractive large garden with good views, log fires in winter, always clean and well managed. Three courses from £20-£45 per head plus drinks (which are quite pricey!). Can get very busy at peak times at weekends 12-3 and 7-9.
The Swan at Dallington – 01424 838 242
Great pub, great atmosphere and great food. Make sure you order a window seat in the restaurant in the summer months. There are far reaching views over the countryside. About a 10-minute drive from the cottage.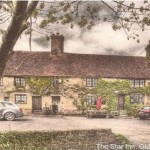 The Star, Old Heathfield – 01435 863570
Very old building tucked away and off the beaten track. Food is quite expensive but the atmosphere is great. You could take risk and just turn up but it might be better to book in advance. Take my tip and eat in the bar rather than the restaurant.
The Old Vine – Cousley Wood – 01892 782271
Large pub with large restaurant and varied menu – gets busy. Dog friendly in bar. Low beams and atmospheric. Takes about 15 minutes to get there by car
The Elephants Head – Hook Green – 01892 890279
Very popular old and small country pub with good food. Dog friendly in bar. To get there, pass through Wadhurst, turn right towards the A21 and then follow the signs to Hook Green.
The George at Frant – 01892 750350
Locals' pub with large menu. Not been there myself. Interested to hear from anyone who goes. Will take you about 20 minutes.
The Swan at Lamberhurst – 01892 890170
Bistro atmosphere, modern interior, good food – Not everyone's taste
(A few seconds walk from The Swan is Lamberhurst Vineyard. The vineyard is open to the public and has a shop selling English wines and a small licensed café that serves an excellent roast lunch on Sundays. Also on the premises is a very good therapy & beauty spa called Vino Beauty – 01892 891 759). Check before going.
The Blackboys at Blackboys – 01825 890283
Have been there on several occasions in the evenings. Will take you about 25 minutes and you'll wonder if you're on the right road as you snake down the country lanes. Worth a visit but not for your 'special night out'.
The White Horse, Silverhill, Hurst Green, TN19 7PU- 01580 860235
Very good food and long hours of service for lunch at weekends, attractive terraces with nice views in summer, well designed modern interior mixed with antiques. Occasional live music. Good service and ambience. Three courses from about £25-£40 per head plus wine (www.thewhitehorsehurstgreen.com)
The Bell Inn, Ticehurst, High St, Ticehurst, TN5 7AS (01580 200234)
This is a completely renovated building of considerable age about 15 minutes from Blackdown Cottage. Good reputation for its food. The bar is warm and comfortable
Restaurants
Eastern Promise – Herstmoncieux – Tel: 01323 833 494
Indian restaurant. Very popular with the locals. About 30 minutes drive from the cottage. Can usually get a table but best to book. Great food.
The Pilgrims, Battle, East Sussex TN33 0AE – Tel: 01424 772314
Rumoured to be Paul McCartney's favourite restaurant
Three courses from about £30 per head plus wine (www.thepilgrimsrestaurant.co.uk)
Sawyers Restaurant, High Street, Mayfield, East Sussex TN20 6AB – Tel: 01435 873876
Very good chef produces some unique dishes using mostly organic and local produce. Good reputation. Small restaurant in a modern style – booking recommended.
Three courses from about £25 per head plus wine
The Curlew, Bodium, Robertsbridge, TN32 5UY – 01580 861394
Nice atmosphere and excellent quality food – avoid Sundays & closes some early weekday evenings. Small garden next to car park.
Three courses from about £25 per head plus wine (www.thecurlewatbodiam.com)
Pilio Bistro, High St Heathfield (01435 863376)
This is a tiny Greek restaurant offering typical Greek dishes. Opened in 2014 and always fully booked. You will need to think about booking a table before your arrival at Blackdown to have any chance of getting in. Charming owners who will always make you welcome. Great food.
Fine Dining
The Powder Mill Hotel, Battle – 01424 775 511
For the special occasion there are not many places to beat The Powder Mill. Expect to pay something in the order of £90 to £120 for two, including wine. Leave 25 minutes for your journey. (www.powdermillshotel.com)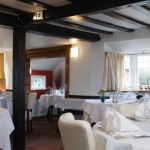 The Sundial, Herstmonceux. Tel: 01323 832 217
The crème de la crème of eateries in this area with a price tag to match. A two-course meal (but you can have three or four if you want) will set you back about £120 with a bottle of wine. Expect to take about 30 minutes getting there. (www.sundialrestaurant.co.uk)
Thackerays, Tunbridge Wells – 01892 511 921
Probably the most expensive restaurant in the area but boasts a Michelin star. Not sure why the name but the building is certainly much older than Thackeray himself. Need to book well in advance. (www.thackerays-restaurant.co.uk)
Middle House, High Street, Mayfield – 01435 872 146
See also under 'Pub Grub'. The separate restaurant is really very good indeed with an excellent menu and fine surroundings. Less expensive than the other restaurants in this section, it is, in my view, well worth a visit. Booking in advance is a must.