We have tried to group activities under what we feel to be the most appropriate heading but inevitably some activities could potentially have appeared under different heads. In addition to the information shown on this page, we have put together a number of suggested itineraries for those of our guests who are new to the area, complete with directions on how to get there.
The information forms part of our Welcome Pack at the cottage. Feel free to let us know about any activities or locations we might have missed and which you think would be of interest.
Historical Sites

1066 Battlefield and Abbey. The historical site of the Battle of Hastings and the abbey built shortly afterwards by William the Conqueror. Audio tours of the battlefield available. www.english-heritage.org.uk/battleabbey
Bodium Castle, nr Robertsbridge. Everyone's idea of a medieval castle complete with moat, Bodium is one of Britain's most famous and evocative castles. It will take about 35 minutes to reach and is well worth the effort. www.nationaltrust.org.uk/main/w-bodiamcastle
Hever Castle, nr Edenbridge, Kent. The childhood home of Anne Boleyn (one of the wives of Henry VIII), this is a magnificent home and gardens that can be reached by car in about an hour from the cottage. www.hevercastle.co.uk
Leeds Castle and gardens, nr Maidstone. Said to be the most beautiful castle in England, the castle is set on two islands surrounded (as one might imagine) by water. It is about an hour's journey from the cottage. www.leeds-castle.com
General Interest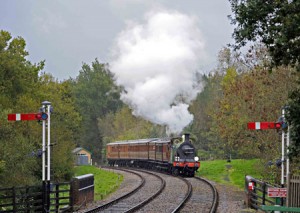 Bluebell Railway, Sheffield Park.https://www.bluebell-railway.co.uk 18 mile round trip with 19th and early 20th century steam locomotives. Probably take you about 45 minutes to get there by car from the cottage
Kent and East Sussex Railway, Tenterden. Full-size heritage railway with Edwardian stations and steam locomotives. Tenterden seems to take an age to reach but is, in fact, only about 50 minutes away by car. www.kesr.org.uk
The Hop Farm Country Park, Paddock Wood. http://www.thehopfarm.co.ukVictorian oast houses, shire horses, interactive museum. Around 50 minutes from the cottage.
Batemans, Burwash. www.nationaltrust.org.uk  home of Rudyard Kipling in the early 20th Century. Open to the public. About five minutes by car from Blackdown Cottage.
Knole House, Sevenoaks. A mansion set in a huge deer park, the history of the place goes back to before the days of Henry VIII and is full of furniture and paintings from the period including Ann Boleyn's prayer book. About 45 minutes drive from the cottage.
www.nationaltrust.org.uk
Chartwell, Westerham. The home of Winston Churchill before, during and after the war. The house and gardens are full of memories of the wartime leader. About an hour by car from the cottage.
www.nationaltrust.org.uk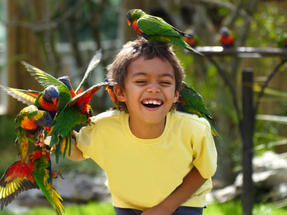 Drusilla's Park, Alfriston. This wonderful little zoo specialises in small animals and insects. It dates back to the early 1920's and is likely to occupy your whole day. About 45 minutes by car from the cottage.
www.drusillas.co.uk
Quebec House, Westerham. The boyhood home of General Wolfe of the Battle of Quebec. The house is quite close to Chartwell (see above) and is full of family photographs. Probably not worth a special trip unless you have some special interest in the place but can be combined with a trip to the nearby Squerryes Court (also connected to General Wolfe).
www.nationaltrust.org.uk   www.squerryes.co.uk
Michelham Priory, Upper Dicker, Nr Hailsham. An Augustinian priory incorporated into a Tudor mansion. Moated gardens, working watermill, smithy and rope museum. Check for craft fairs that are held there from time to time. About 40 minutes from the cottage.  www.sussexpast.co.uk
Gardens
Sheffield Park Garden, Sheffield Park. 120 acres of gardens designed by Capability Brown. www.nationaltrust.org.uk
Groombridge Place Gardens and Enchanted Forest, Royal Tunbridge Wells. Includes 17th Century walled garden. Open to visitors 28th March through 7th November 2009. www.groombridge.co.uk
Great Dixter House and Gardens, Northiam. A 15th Century manor house famed for its gardens by Edwin Lutyens and Christopher Lloyd. www.greatdixter.co.uk
Penshurst Place and gardens, Penshurst. Medieval manor house that is open to the public as are the Tudor gardens and toy museum. www.penshurstplace.com
Wakehurst Place Gardens, Ardingly. Ornamental gardens, water features and temperate woodlands. Kew's country gardens. About an hour's drive from the cottage. www.kew.org
Scotney Castle Gardens, Lamberhurst, Kent. About 25 minutes from the cottage, on the A21. The house and gardens are open to visitors on Wednesdays through Sundays, 2nd March to 2nd November 2009. www.gardens-to-go.org.uk/ScotneyCastleGarden.htm   www.nationaltrust.org.uk
Pashley Manor and gardens, Ticehurst. About 15 minutes drive from the cottage, the gardens are said to be amongst the finest in England. Open to the public between 2nd April and 30th September 2009. Local produce is on sale in the Great Hall of the Grade 1 listed manor house and refreshments are available from the Garden Room café. www.pashleymanorgardens.com
Sailing
Hastings and St Leonard's Sailing Club. About 40 minutes from the cottage. Contact club direct for information on charter of boats. www.hastingssc.org
Sovereign Harbour Marina, Eastbourne. Does not appear to have its own Web site but can be contacted on 01323 470099 for all enquiries. It will take you about 50 minutes by car from the cottage.
Bexhill Sailing Club. The club has a number of boats for charter and will let you sail subject to your experience. Most sailing is done at weekends but there are exceptions. It is about 40 minutes from the cottage. www.bexhillsc.com
Bewl Valley Sailing Club. This is inland water sailing on a large reservoir. The route to the club is down the A21 towards Hastings and can be reached in about 35 minutes from the cottage. Make sure you contact the club before travelling. www.bewlvalleysc.co.uk
Tennis
Cross In Hand Lawn Tennis Club, Harvey Roberts Playing Fields, Heathfield. There is no Web site for the club and visitors are advised to call the club direct on 01435 867 988 before travelling. It takes about 15 minutes to get there from the cottage.
Cinemas
Odeon Cinemas at Royal Tunbridge Wells and Hastings. Programme of films, film times and on-line books are available on the Web site. www.odeon.co.uk
The Pavillion, Hailsham. About 35 minutes from the cottage, this is a small, independently run theatre with an excellent range of films. Adequate parking. Full details of times, shows and on-line books are available on the Web site. www.hailshampavillion.co.uk
Restaurants
See our Places to Eat page
Golf
Bannatyne, Hastings. Part of the Bannatyne Spa Hotel, the course welcomes visitors. About 20 minutes from the cottage, it is actually quite a bit closer than Hastings itself. If you decide to go on into Hastings after your game, make sure you visit the Old Town where you can pick up fresh fish from the fishmongers on the beach. www.bannatyne.co.uk
Dale Hill, Ticehurst. This is the closest course to the cottage and can be reached in about 10 minutes by car. www.dalehill.co.uk
Sedlescombe Golf Club. About 35 minutes from the cottage, along the A21. Welcomes visitors. 18-hole. www.sedlescombegolfclub.co.uk
Fishing
Barrets Park Farm Fishery, Weavers Lane, Old Heathfield. No dedicated Web site but the fishery can be contacted by 'phone of 01435 863 668. The publicity material suggests the largest fish available are: 25lb carp, 5lb perch. No more than 15 minutes by car from the cottage. More information from the East Sussex Fisheries Web site. www.fishe.net/eastsussex/fisheries/barretsparkfarm.php
Horam Manor Fishery, Horam. This is about 20 minutes drive away and offers carp and tench. Call the fishery on 01323 ??????
Lakedown Trout Fishery, Swife Lane, Broad Oak, Near Heathfield. About 3 minutes by car or a 5-minute walk across the fields from the cottage. Visitors welcome. Contact Norman Mockford or Phil Stratten on 01435 883449 / 07891 817537. More information available on the Web. www.flyfishingvenues.co.uk/venue.asp?venue=253840889.
Shopping
Heathfield is a ten-minute drive away or you can catch the hourly bus! It has a range of useful independently run shops including traditional greengrocers, a butchers and a chemist with a dispensing pharmacy. The two banks are NatWest and Barclays – both with external cash-points, and there is also an off license, post office, bakers, ironmongers, ladies fashion, sewing shop, electrical goods, gift shop, bookshop, two hairdressers, and a florist. There are three supermarkets (Tesco Express, Co-Op and Budgens), and a newsagent. Petrol stations can be found either in Heathfield or in Burwash. Almost all shops close on Sundays. There is gym/leisure centre at Old Heathfield and day membership is available.
Royal Tunbridge Wells is a large bustling market town with many unique and high quality shops along the old high street, dozens of restaurants and cafes as well as all of the usual large high street stores you would expect. There are Sainsbury and Waitrose supermarkets in Tunbridge Wells and Crowborough.
Battle High Street is small and pretty with lots of interesting shops, restaurants and frequent farmers markets overlooked by the stunning Battle Abbey where you can visit the site of the Battle of Hastings in 1066.
London (Charing Cross) is an hour and ten minutes away by train. Turn left out of the drive and Stonegate Railway Station is about 3 minutes away. Full details of train times are available in the cottage. You will need transport to reach the station.